POISON EVERYTHING Pop up Show By ANTHONY TAFURO at the ICP-Bard MFA studio, 6 PM EDT 7/27/17
A few years ago, Anthony Tafuro found us on Instagram and submitted to our inbox when we had just decided we weren't collecting submissions anymore. But we were pulled to his work, so we didn't tell him this. His gritty black and white images have a quiet sensitivity more common in editorial work than street photography. He seems to slip his way into different crowds with an easy immersion. Anthony's narratives skip spectacle, instead relying on a strong narrative ontology centered around social commentary and the politics of seeing. We published an image from his book for BA.KU, but missed his SF show. So when heard about his solo exhibition, POISON EVERYTHING, well, our knees buckled all over again. Anthony offered up his two curators to be included in his interview. Here's our interview with the three of them.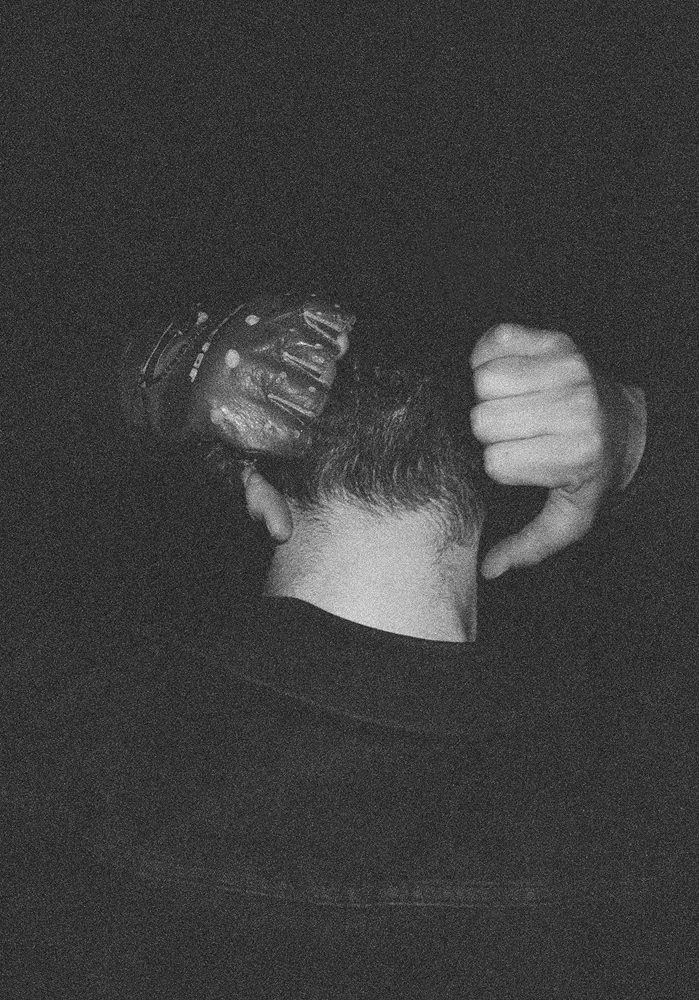 ANTHONY'S WORK WE PUBLISHED IN BLACK RABBIT i.3
From his work on BA.KU, which Vice also interviewed him for.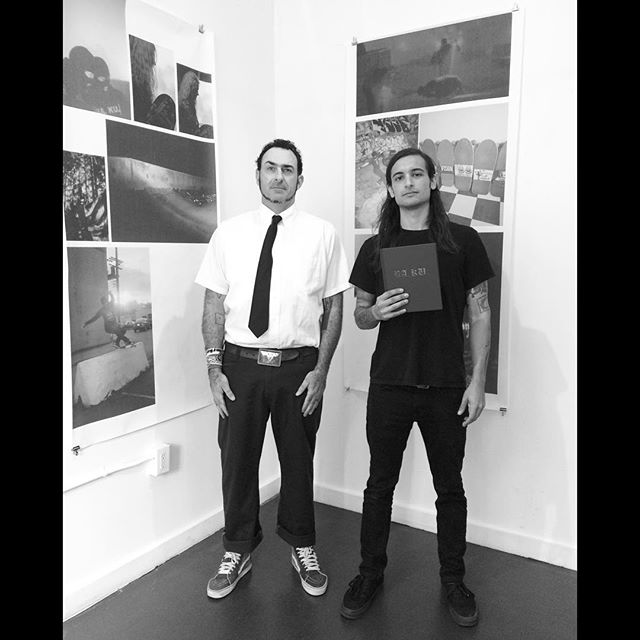 BARRIER KULT HARDCOVER BOOK SIGNING
Anthony showcased various prints from his book for his 2015 show.
POISON EVERYTHING interview
Sam and Timothy, do you two usually curate there, or are you just hosting this show?
Timothy: Sam presented the idea of doing a solo show during the summer when there are no classes or critiques and the space is usually not in use. I thought it was a great opportunity to utilize the space and do something fun. I asked Sam if I could help him out and he obliged.
Sam: There are a few curatorial projects, like curated shows to accompany a number of open studio evenings, that take place in the space. I recently organized my solo thesis show there, it's sort of a transformative space every spring because around ten 2nd year students put up their solo show. Every week from February to May there is a new show that opens on Thursday evening and comes down on Sunday night.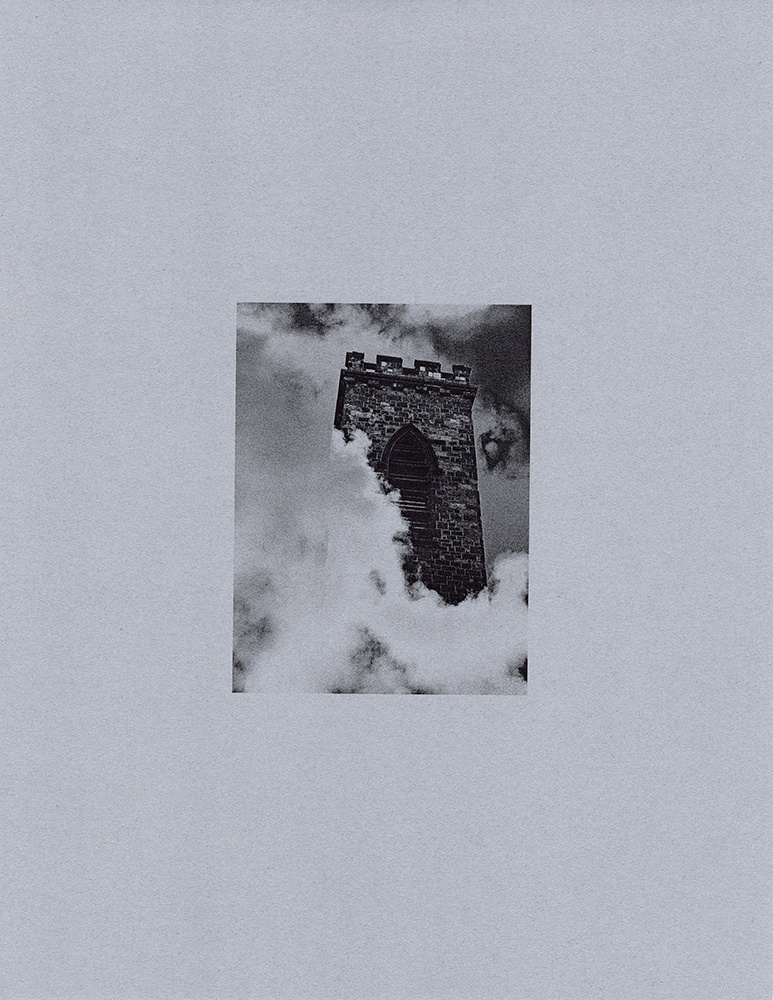 Some work from Anthony's show
Can you tell me a little bit about the studio POISON EVERYTHING is showing in?
Anthony: The space is awarded to the students of the ICP/Bard MFA program. It has a long entrance one large gallery, a half size gallery and a long wall. The flyer I drew is the actual layout of the space. Sam's notes are apparent on the side.
Timothy: The studio is used by ICP-Bard MFA candidates during the academic school year. It's where we hold classes, critiques, and the second year students present a solo show as their final thesis project. In the back of the building each students has their own studio.
Sam: The ICP-Bard MFA studio, at 24-20 Jackson Ave. across from the G,7,M, and E train Court Sq. station, is where we are putting up Anthony Tafuro's "POISON EVERYTHING." It's a sort of mystical space, a renovated masonic temple where the 20 or so students in the program work throughout the year; they have critiques in two gallery spaces there and that's also where they put up thesis solo shows. People aren't there as much over the summer due to projects abroad and exploring work outside the studios. Tim and I thought this time would be a really great opportunity to open up the space to some artists who are bringing up issues in their work that are less contextualized by that program's curriculum.
Anthony, what mediums did you work with for your pieces in POISON EVERYTHING? Can you tell us about your process?
Yea, the show is a concoction of all my thoughts on paper, board, and unfortunately my body.
You'll have to come check it out in LIC Queens to get more details.
MORE FROM ANTHONY'S INSTAGRAM
Anthony, have you been working on any new projects lately?
I've been really busy getting together a follow up to my first s_u_n_ book, Where YA Been (http://thesun.solar/where-ya-been).
It'll be titled Where YA At and will launch at NYABF 2017 at PS1.
Where else have you shown your work recently? What have been your experiences with those places?
I've mostly been doing the book fair circuit this year. Did really well at LAABF, and Offprint London. I've had some group shows as well, but the fairs have been great. Also have a bunch of stuff planed for this fall.
What are you all looking forward to about the show?
Anthony: To having that cold beverage with Sam and Tim!
Timothy: Honestly, just looking forward to seeing some great work on the walls and have a beer with good friends.
Hi, Sam. Hi, Timothy. Can you guys tell us a little about yourselves? Sure, this is Anthony's solo show, but we're curious about the curators. What are your backgrounds? Are you full time curators? What else keeps you busy?
Sam: I'm not a full-time curator at all, I've just been getting my feet wet with curatorial projects here and there but I'm coming at it from years of deep engagement in photo editing and photographic installations. I just finished my MFA in the ICP-Bard College program, where I was able to push my interest in the way that photographs slip into a wide variety of meanings depending on how they are encountered by the viewer. This encounter is often within the narrative causality of linear sequence, but I'm interested in trying to to break that through channeling and challenging the architectural constraints of the physical spaces where these photographs can be seen by the viewer. In terms of aesthetics, Anthony's work is hugely different from my my own; I was compelled by his fantastic use of the book form and in further working through his images I have found a real analogy for ideas that I often grapple with. I think Anthony is looking deeply at the texture of the many bizarre surfaces that he encounters, he is intent on penetrating them to liberate the ether - or maybe sticky goo - behind these things and it's often quite successful, quite revelatory.
I'm keeping busy lining up public programs for the fall at the Bushwick Community Darkroom. We're working on a busy calendar of photographic exhibitions, artist talks, and open discussion on some of the great writing about photography that's been coming out; for example we're hosting a conversation about some of Teju Cole's fantastic essays from "Known and Strange Things" on Wednesday July 26th, as part of a public programming series we're calling "Books & Beer."
Timothy: The low down: I grew up in Indiana, left when I was 18 and moved to NY when I was 19. This is my 17th year in the city. For me, everything comes back to photography and my family, they are currently my biggest inspiration. I've been seriously making photographs and exploring the medium since I moved to NY, but I've been making work that I'm really proud of for about 10 years now. Besides making work myself, forming connections with other artists and building a community of like minded people is what keeps me busy. I'm also a MFA candidate at ICP-Bard.
How do ya'll know each other?
Anthony: I met Sam through Tim who I've known for a few years now. I reached out to Tim for help in sequencing/editing my work in the past. He is usually one of the first to see whatever I'm currently doing. I trust his intuition and everyone he introduces me to. Timothy's work is crafted in an amazing lab on Staten Island.
Sam I met because he is part of the same program at ICP/Bard. It's a small world and we have mutual friends, but we wouldn't have met if Tim wasn't part of the MFA program. I really enjoy Sam's vision and descriptions behind the already strong content.
Timothy: I met Sam at ICP-Bard, he was a second year student when I came into the program. I've known Anthony for a few years. He initially had asked me to help him edit some work for a book that never came to fruition, but I'm hoping it still does.
Sam: I met Tim a few years ago when he was looking into the ICP-MFA program. He came to a performance I gave at the ICP school and we hit it off there. He's been such a generous artist since then, opening me up to so many new ways of working and introducing me to a ton of new perspectives and oblique strategies. Tim brought Anthony to one of our open studios and then we kept wanting to have him back to be around and share ideas.
Who came up with the show title? What was the thought process behind that?
Anthony: The show is a concoction of all my thoughts on paper, board, and unfortunately my body. Poison Everything is also a great intense punk/hardcore record by Obliterations.
Sam: Anthony came up with the title after we had mapped out the use of space in great detail, we wanted to spread his work all throughout the galleries and make sure it was seeping into every corner so that had something to do with the title's allusion to a gesture on the offense. I'm also drawn to the title because of the operative word "everything." Especially right now, I think a lot of people relate to the idea that everything is poisoned, like it's always been poisoned and the antidote we've been working on is getting buried by a small group of people who want to persist in these conservative ways of working that have kept them in power. On another level, I like to wonder what exactly the "poison" refers to, and I'm inclined to challenge the sources that would be telling us this or that should be avoided like poison.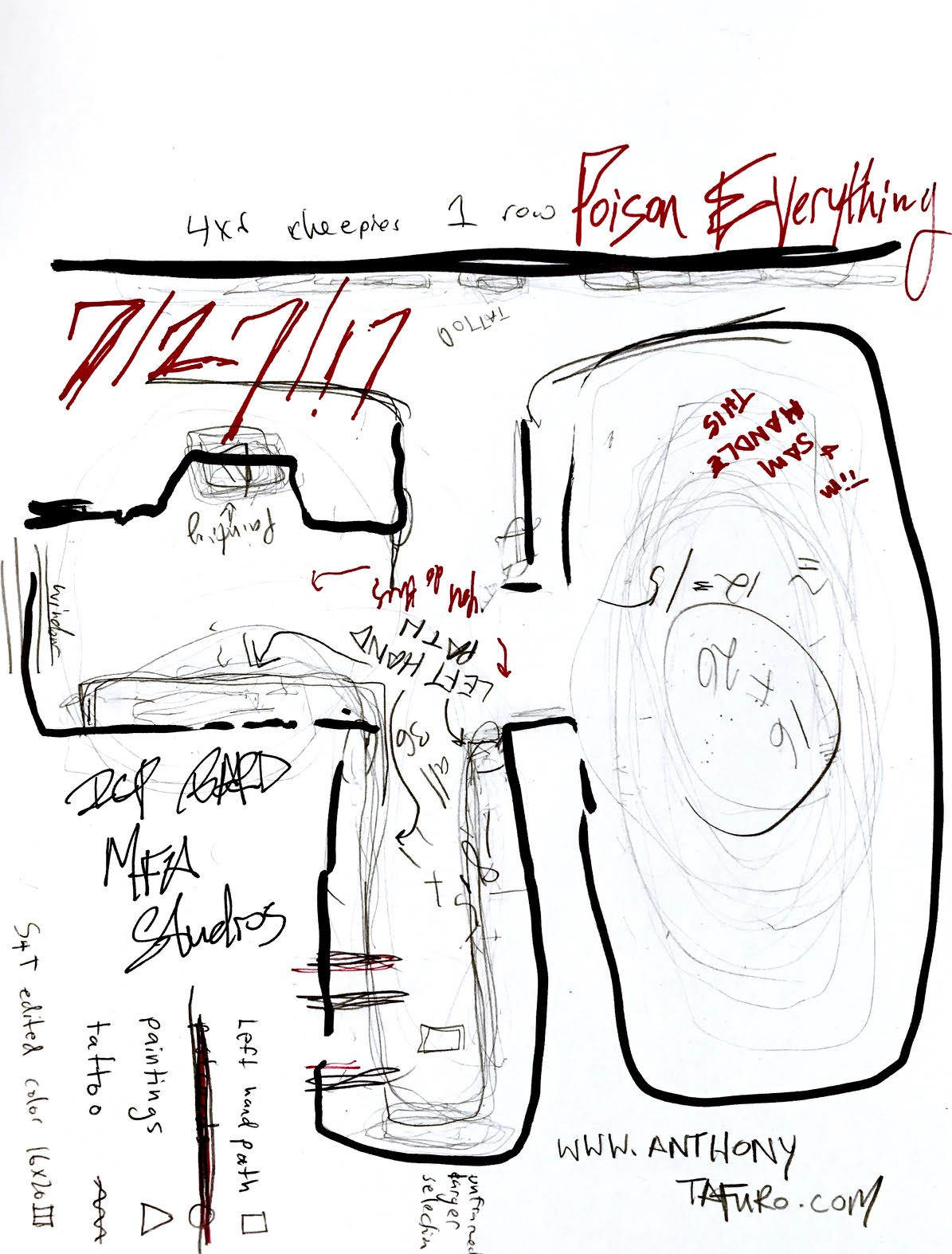 ANTHONY's hand drawn map for you.
Plus the event invite. You're welcome.
How did you decide to curate Anthony's work? Can you tell all of us a little about the gallery set up and the narrative you chose? Did you write any text to accompany the display?
Sam: We have curated Anthony's work in a way that is loose and disparate but also very tightly tied together, I'm thinking of it like four knots in a single rope. There is one site-specific work that Anthony told us about after we began talking about the show and I'm really excited to see that come to fruition. There is also one painting, which I think will really hold a dense and dark presence in the show, as well as two larger and sets of images. "Left Hand Path" is a set of photos that Anthony has already released in a book, and he has remade the photos with a different attention to their material realization. In the largest gallery will be a set of color images that Tim and I edited down for the most part on our own, this is super exciting for all of us because it gives Anthony the most objective look at what he's doing and allows us to develop the ideas that we are most attracted to in his work. Tim and I are writing something to accompany the show; I'm aiming for something parallel and meandering, I think there is a narrative that will work well with a few pauses - places of poetic contemplation - in order to elaborate some of the questions that Anthony is asking in his work.
Timothy: Sam and I were looking for someone who would be excited to utilize the space and share some new work. Anthony came to my mind right away. We met with Anthony and drew out the layout of the gallery and he had a lot of ideas right away. He's been making so much work the last year that we thought it would be nice to show off a solid range of ideas he's been working on. The show consists of mostly unseen and new work. I'm excited about the whole show, but I'm really stoked on the main space. It's made up of a selection of new photographs that Sam and I edited together. There's also a beautiful new painting in the show, a really exciting piece made just for this exhibit, and a selection of work from Anthony's book, Left Hand Path.